McMurdo Silver 906
AM/FM signal generator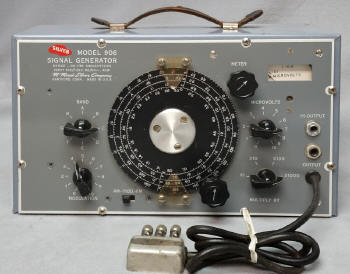 McMurdo-Silver 906 AM/FM signal generator ca:1946
This highly touted piece of equipment an AM/FM sweep generator, offered as-is, as found. Acquired from the estate of a deceased electronic engineer. He or someone beautifully restored the electronics, all the capacitors have been replaced, a 3 wire modern AC cord installed and it's in exceptionally clean condition. The tubes all test good and all the functions work but it needs calibration. I'm not familiar with this piece of equipment and do not have the ambition or expertise to properly calibrate it. Therefore I'm going to leave it as-is for someone else to finish. I reiterate, the instrument does work, there are signals at the output on all functions, but I'm sure it needs alignment and calibration.
Coverage: 90 Kc - 170 Mc.
Tube compliment: 4 - 6C4, 2-6AU6, 6AL5, 6J6 & 6X4
AM + FM modulation
FM sweep
My improved instruction manual is included (a $25.00 value)
instrument measures: 12 x 7 x 6" shipping weight = 17 lb.