Kent-Moore KMO-175 Tube Tester
made by Hickok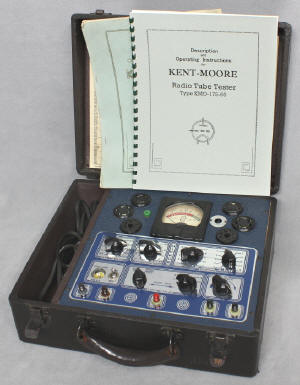 Hickok made for the auto service industry ca: mid 30s
From my long time collection, a scarce model now offered for sale. This 1930s tube tester was made for the auto service industry to aid in servicing car radios. Many of the tubes listed on the chart were (at the time) exclusive to car radios and not found on other tube testers.
Although it does not quite compare with other Hickok testers, it's quite useable and does an OK job on most tubes of the early 1920s, '30 & early octal based tubes up to about 1940 (it will not test miniature tubes). I offer it as a collectable rather than a utilitarian item. It's very clean inside & out and has been well cared for. It's test is about as reliable as some of the low-end emission testers.
Offered as described above as collector item.
| | |
| --- | --- |
| | < Instruction manuals are available for the above and other models |
| | |
| --- | --- |
| return | the instrument has been sold |