Heathkit V-6 VTVM
(Vacuum tube volt-meter)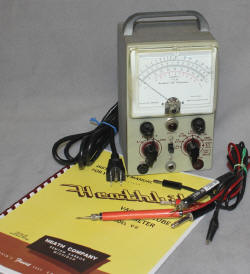 Originally sold as a kit, first offered in 1955 and a popular model well into the '60s.
The vacuum tube volt meter (VTVM) is a must for any vintage audio, radio or television technician's workbench. I know, the digital DVM's have taken their place and give a more accurate reading and should also be part of a complete workbench. However, there are instances where the VTVM is more reliable than many DVM's. A couple of examples are; measuring continuity of inductors (chokes, transformers etc.) and observing a fluctuating voltage. The V-6 is an earlier model similar to the IM-18 An excellent VTVM that's been serviced, updated and calibrated.
What You Get
An instrument that has been carefully serviced & calibrated.

new 3 wire grounded AC cord installed (for safety).

new probes made (original were missing).

reprint instruction manual (as $25.00 value).

new (better) battery holder installed, the original was badly corroded (battery had been left in for years by previous owner).

Very clean inside, outside scuffed, with paint chips and shop wear.

New Dura-Cell battery installed

The repair cost of this instrument (if done for someone else) would have exceed the price I'm asking or it. It's not the best looking piece of equipment I've ever had but works as good as new.
$98.00 with FREE shipping within the continental USA
< AVAILABLE, reprint Heathkit manuals for above & other models