Heathkit IT-11
Capacitor Checker & Capacitor/Resistance Bridge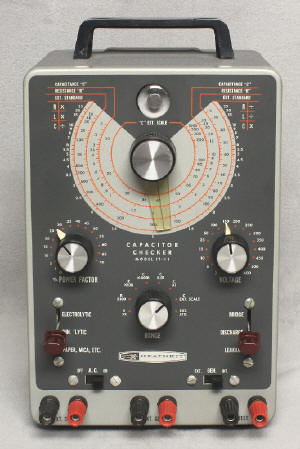 The IT-11 was originally sold as a kit, first offered in the early 1960's. Today it's one of the most popular capacitor testers ever. The newer version (IT-28) came out in 1968 which is identical to the IT-11 except the case color and the ability to be wired for 220 volt operation.
The above is offer as serviced, calibrated and ready to be put to use. Includes a new "Eye Tube", new value selected capacitors in the capacitance test circuit and a nice re-print of the operation manual with schematic and parts list.

< AVAILABLE, reprint Heathkit manuals for above & other models
the instrument was SOLD - photo reference only