Heathkit IM-18 VTVM
(Vacuum tube volt-meter)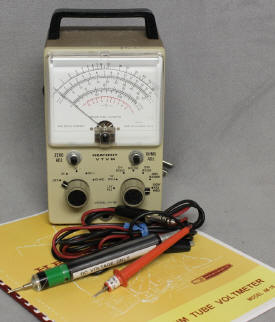 The vacuum tube volt meter (VTVM) is a must for any vintage audio, radio or television technician's workbench. I know, the digital DVM's have taken their place and give a more accurate reading and should also be part of a complete workbench. However, there are instances where the VTVM is more reliable than many DVM's. A couple of examples are; measuring continuity of inductors (chokes, transformers etc.) and observing a fluctuating voltage. The IM-18 is a new version of the older V-6
What You Get
An instrument that has been carefully serviced & calibrated.

new 3 wire grounded AC cord installed (for safety).

new probes made (original were missing).

reprint instruction manual (as $25.00 value).

battery-less ohms scale operation, the previous owner (an EE), designed and had installed a built-in power supply for the "Ohms" operation, it works perfect, so I left it as found.

Very clean inside, outside scuffed, with paint chips and shop wear.

The case is has blems, scuffed and shop worn but clean inside and works like new works as good as new.
WHAT YOU DON'T GET when you buy from RadiolaGuy: Yes you can pick one up cheaper on eBay. But like many eBay purchases, you buy something that's supposed to be in good working order or the seller doesn't know or states "it powers up". You buy it and find out afterwards that you now need to spend more money to get it fixed. All the equipment I offer for sale has been serviced as if to be for my own use, no hurry up, quick, scabbed up, just make it work repairs offered here. My offerings (unless noted as-is) are properly serviced, tested, as described and ready to use, This I guarantee!
< AVAILABLE, reprint Heathkit manuals for above & other models
the instrument was SOLD - photo reference only