Peerless Reproducer
radio loud speaker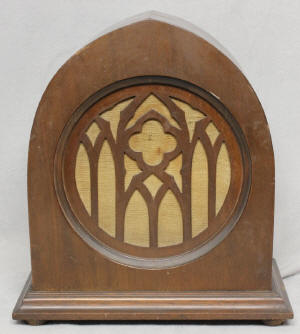 Peerless Reproducer ca: mid 1920's
"Cathedral" style radio speaker
Another popular radio speaker of the 1920's and a nice sounding speaker that will work with all 1920's battery or electric radios made to operate a 2 wire, PM speaker. The cabinet is in good condition and appears to have it's original finish that has had a small repair at the top rear that I try to show the image of the top. Overall finish is in fair to good condition. Sounds as good as they come for that type and not bad at all when connected to modern equipment (yes that can be done). The speaker element is original and in perfect condition and tuned for best performance. Has a new replica of the original style, flexible cord with phone tips (a $24.00 value).
Circa: mid 1920's
Type: PM, two wire high impedance
Labels: brass badge at case rear bottom
Grille Cloth: original
Cabinet/Case: all wood, appears to be original
Driver: horseshoe type, original
Measures (approx): 12 x 16.5 x 8" weight = 8lb
> more info about 1920's radio speakers
$120.00 plus $36.00 S&H anywhere in the continental USA MAKE OFFER
< AVAILABLE: Vintage original style cable with phone tip "pin plugs" (like shown on the above speaker).