Stewart-Warner model 07-512-S
"Campus"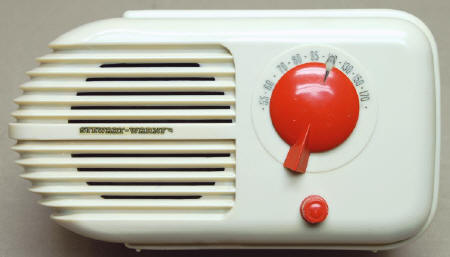 Stewart-Warner "Campus" model 07-512-S ca: 1939
Beautiful Deco styling, small "Bullet" cabinet
Another little beauty from my collection. Solid ivory Plaskon cabinet in near perfect condition. The dial light illuminates the pointer and the illuminated area behind moves when tuning and lights up the cabinet in the dial area.
Year: 1939
Case: solid ivory Plaskon
Dial: molded in case, lighted knob pointer indicator
Tuning type: capacitance, super-het
Power transformer: no
No. of tubes: 5
Frequency coverage: AM, standard broadcast
Antenna requirements: external long wire + line cord antenna (provide by a link on rear of chassis )
Measurements (approx): 9.5 x 6 x5"
Relative Size View


radio is no longer available