Philco Radio model 49-503
Philco Radio & Television Corp.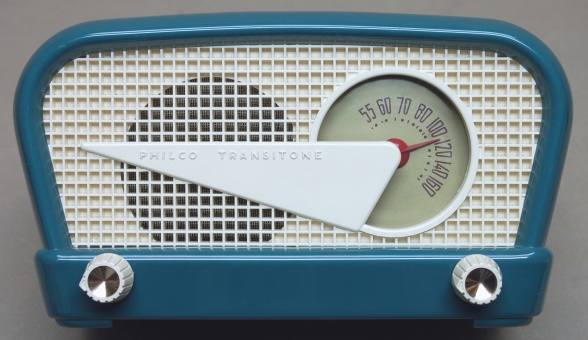 Model 49-503 (1949)
Referred to as the "Flying Wedge" This model came in several (solid) colors. The cabinet is not painted but solid colored styrene (not Bakelite). There is an earlier version identical to the above as model 48-230. It was in Brown plastic. I understand there is a wood version as well.
Philco has always been (since childhood) my favorite brand of radio. Since the age of about 12, I can't remember a time when I did not own a Philco radio.
Philco was founded in the late 1800's as the Philadelphia Storage Battery Company. They made batteries for the early electric cars. In the 1920s, their production switched to making batteries & home charging equipment for battery radios.
As the electric radios were fast fast becoming the new, popular technology, Philco built their first all electric radio (called light socket powered then) in 1928.
With great promotional venues and a quality product at much lower prices than their competition, Philco became the industry leader in radio manufacturing by 1930! In 1939, they built their first television. For the budget minded, the Philco line of radios where among the best in quality and performance in my (and many other's) opinion .
The Philco line of radios, TVs and other home appliances came to an end in the early 1960s when the company was bought out by the Ford Motor Co. A sad ending for a great American company.
Philco Firsts:
First in sales - and in only two years after introducing their first radio.

First in economy - by 1930, they sold more radios than any other brand. Philco sets performed as good as or better than other national brands, some costing much more.

First with Hi-Fidelity - introduced in 1935

First wireless remote - with the "Mystery Box" 1939

First with AFC in television - 1946, did not need a fine tuning control that most TV's needed well into the 1960s.

First all transistor, portable Television, - 1959 Battery operated, 100% American designed, engineered and built with all American parts by Philco!
| | | |
| --- | --- | --- |
| Oblique view left | Oblique view right | backside |
| | |
| --- | --- |
| | < Reprints of the service manual and labels for the above are available |