Airline radio model 93BR-412A
(Montgomery-Ward)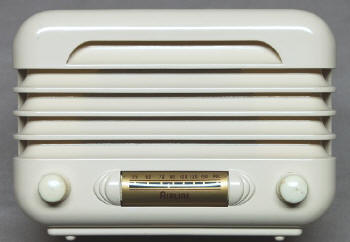 Montgomery-Wards "Airline" model 93BR-412A
One of the tiniest of the 1930s radios,
measures just under 6" wide.

images can be enlarged by clicking on them
Another little beauty from my collection. Painted Bakelite cabinet (original paint), exceptionally clean in near perfect condition. Excellent finish with only a couple of very tiny paint chips, all original sans components (capacitors, resistors etc.) used in my meticulous electronic restoration.
Year: 1939
Case: Ivory painted Bakelite
Dial: reverse painted slide rule
Tuning type: inductive, super-het
Power transformer: no
No. of tubes: 4 (5 tube circuit)
Frequency coverage: AM, standard broadcast
Antenna requirements: metal back serves well for local reception, external long wire needed for distant stations
Measurements (approx): 7 x 5 x 4"

Radiolaguy collection, not for sale