Scott LK-48 amp/pre-amp and LT-110 tuner
HH Scott integrated stereo amplifier and tuner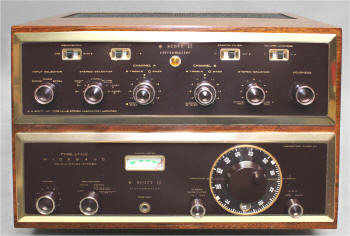 | | | | |
| --- | --- | --- | --- |
| | | | |
Circa 1961, beautifully nicely built, beautiful condition,
power amplifier, pre-amp & stereo tuner.
Excellent condition, exceptionally clean, nice & neatly built. The tuner puzzles me a bit (I'm no audiophile or collector of such). I do not have a manual for the tuner but from what I can find on line, this version has an extra tube that I can't find any reference to. There is a 6AV6 that the socket for same was obviously factory mounted. However, there's no silk screening for it on the chassis as do all the other tubes (see images).
LK-48 chassis views
(click on any to enlarge)
LT-110 chassis views
(click on any to enlarge)
< Manuals available for the LK-48 and other Audio equipment

< beautiful replica Pam clock available
the amp has been sold
the amp & tuner are no longer available